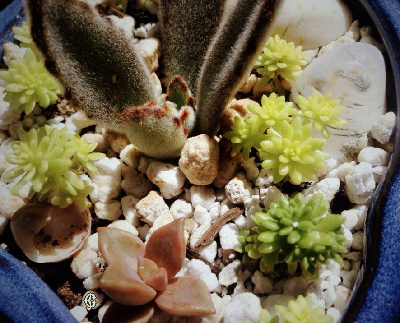 I know nobody really cares about my plants but I don't mind because it's sooo relaxing to wake up on my days off to see my babies in the morning.
These Graptopetalum paraguayense grew a lot! A couple months ago, I used them in my post about propagation. Their roots were reaching out of the soil surface like little fingers in their last pot.
They still do that.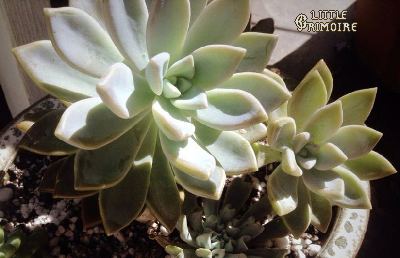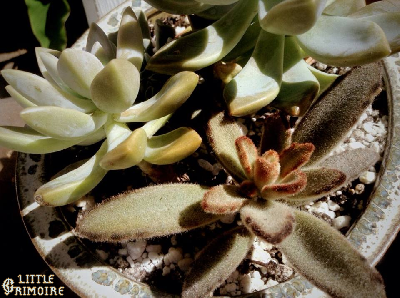 Below, from left to right (aside from the cactus): an offshoot taken from a G. paraguayense, a plantlet grown from leaf propagation of the same plant, and the last remaining leaf of a dying plant I bought from Lowe's.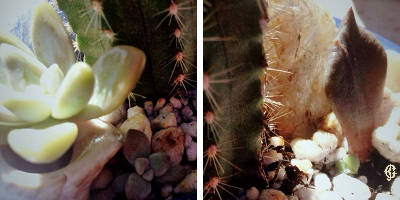 It took about two and a half months before that leaf cutting on the right would sprout anything.
Judging by its slow growth and green plantlet, I think it's probably an Echeveria 'Black Prince'.
This one took just about two months:

And this was the same leaf a month ago:

I guess leaf propagation takes a while for some. I still have some rooted leaves of Echeveria elegans with zero new growth, but other species grow faster than others. [EDIT 10/30: I just checked the E. elegans leafies this morning and one of them sprouted a tiny new life form!]
The long finger-like cactus below is a Stapelia gigantea, or Zulu Giant. It blooms huge, beautiful corpse flowers and I'm so glad I found these growing on the side of the road.
They were very limp when I collected them but now they're growing strong and upright!
I still don't know what the plant is on the right. Judging by its last flowers, it's definitely an Echeveria—maybe a hybrid. It's been a little over a month and it's grown wider and already has new offshoots.
---