I've started to collect land plants!
My favorites are my Panda Plant and Burro's Tail (both pictured below). I also obtained a Zulu Giant corpse flower cactus but it hasn't bloomed yet so pictures of that will come later.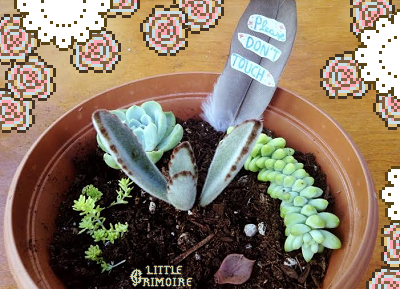 My plants were mostly, uh… "found", hehe. Nothing wrong with spreading mutha' nature. A couple of them were gifts, including my dear Tulsi and a little cactus. A few of them were bought from the dying plant shelf.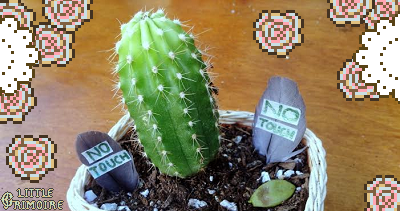 And I'm not sure what kind of cactus this is, but it's pretty fast-growing and has a few orange/brown spines. I think it's a San Pedro cactus (known to have mescaline [WHAT?!]).
I made all these DO NOT TOUCH signs
made with Sakura gel pens, tape, and feathers that Ram molted off. I'm kind of OCD about the gardener or Danny's mom gettin' up in my bzznzz.
Not to mention that the gardener just sold the table that my plants were on this morning like what tha F—who does that?!!?
Anyways, I've been making a plant journal! Things are looking pretty moderately FAILING.
But at least I'll have notes on how not to mess up in the future.
---