♡ FILTHY FARM GIRL ♡
Natural soaps, handmade in Hawaii
They're usually vegan-friendly, except for flavors like Goat's Milk Chai of course. In fact, they grow and harvest many of their ingredients themselves, which is totally sexy.
Speaking of sexy, they have some pretty naughty soap names including Filthy Secretary, Filthy Cowboy (mmhm), Filthy Ass…
Filthy Ass smells REAL GOOD. Honestly, it's pleasant. There's worse flavors, and by worse I mean better, badder, FILTHIER. Ones for ladies, ones for men, even ones for your pooch—which are tested on their own pets.
My favorite so far is Sassy Honey Oatmeal—not so dirty-sounding, but wow,
I totally fantasize this being an ice cream bar, looking as creamy as it does and smelling as irresistible as it is.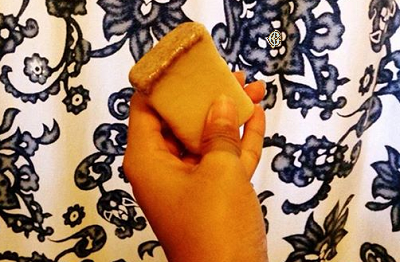 I was surprised that it made my skin SO silky soft and I use it on my face with no problem. I, myself, am feeling like an ice cream bar.
Danny says my skin looks lighter
but I never really notice that sort of thing, so who knows. My hand looks so orange here, what the heck…
I got Filthy Lumberjack 'Mountain Man' for him
because he loves the smell of Tantalus. This soap smells like we're really there (oOoOOoh), but it isn't as strong as Honey Oatmeal. After getting out of the shower the smells are pretty faint for both, but that always beats weird artificial smells sticking profusely on you. YUCK!
They've also got these cute little lip balms!
My lips are really sensitive to chemicals but I've got no problems with these.
I usually don't like banana-scented things AT ALL. NO WAY. JOSÉ.
But I actually love this.
shop.filthyfarmgirl.com
They offer FREE SHIPPING
to anywhere in the U.S.
Lip balms are $4, Small bars (3oz) are $3, Large bars (7oz) are $8.
GOODS

100% natural and handmade
Supports local farmers
No animal body parts
Not tested on animals
Organic when possible
SMELLS HEAVENLY
Soft baby-ass skin results
Lots of entertaining varieties

BADS

Smells don't linger
Pricey (but worth it)

OVERALL

5/5 STRAWBERRIES
P.S. There's a few places in Hawaii where you can get them cheaper,
like the Devi store @ 926 Maunakea Street with large bars for $7 each.
To see what other flavors they've got, here's their soap list.
And for information on their soaps, here's their info page.
---