I'm an eBay junkie and Danny keeps leaving me home alone ALL THE
TIME, hahahaha. Who cares —
(Late night low-quality distress selfies)

LEFT with skirt / RIGHT without skirt
:: Refuse to be Usual::
1. Flutter Angel Blouse
2. Garden Country Skirt
RTBU is a dolly and dark collection with good/great durability. The fabric is thick and feels nice! A+ craftsmanship and quality material. I want to collect allll their things.
SHOP RATING

5/5

:: Seven Clothes ::
3. Dream Transparent Maid Dress
4. Gauze Trumpet Blouse (below)
Seven Clothes has a vast selection of cute and cool items. Durability is OK and some things look like copies of larger brands. The blouse had a tear in the gauze but they promptly gave me a partial refund! I don't know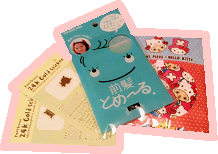 have anything to wear with it yet so I just included the shop's picture. The package also surprised me with little gifts!
SHOP RATING

3.5/5
HEHEHE GOODNIGHT
---