Everything I've read on the Internet about propagating succulents were all contradicting, so it took me a while to, you know… feel it.
ALL SUCCULENTS ARE DIFFERENT AND YOU SHOULD LOOK UP THE SPECIFIC CARE FOR
EACH SPECIES.
I had these healing on a shady table in my room for four days. That little leaf had already grown a pretty impressive root after the first night.
(no water, no soil, barely any light! COOL!
The first picture in this post was taken three days after potting them up. I'm super excited for these roots!
Stem cuttings are much easier than leaf cuttings because they have more backup support. You have to be a little more careful with leaf cuttings, but they're ULTRA cute so don't give up.
I was sad to see A LOT of my leaf cuttings crumple up and die over the past couple months,
but then I read that it's TOTALLY NORMAL which is why you should have THE LOAD of leaves. From my own experience, it seemed that the ones placed with their end pointing towards the soil—either laying down or propped up—grew roots faster. Naturally, they would be shaded by the parent plant so give them a little shade.
My furry Panda Plant is starting to root nicely after I placed the pieces upright into the soil. This plant is SEMI-TROPICAL so it likes a little more water than desert succulents. It was a rotting discount purchase and I had to cut off one of the large leaves as well as the ENTIRE STEM.
It's all lookin' good now though.
Well anyways, that's just a couple things that's what's up on my patio right now besides cats. I'll post pictures of leaf propagation later.
. ~*+
+*~ .

SOME THINGS I LEARNED ABOUT PROPAGATING SUCCULENTS
Overwatering is your baby's demise so drainage is KEY. Mixing perlite with soil (1:1 ratio) creates wonderful drainage and aeration. That rock layer at the bottom is a dumb trend that actually makes things worse. Succulents aren't for terrariums so make sure that pot you're using got some holes.

Larger leaf cuttings have a greater chance. With stem cuttings, take off a good amount of bottom leaves so it can direct more energy to growing roots without having to carry too much on its back. I have more success with more stem. Before putting it into the soil, make sure the cut callouses over by letting it dry for a couple days or more. This prevents rot. You can also dip it in cinnamon, which acts as a rooting hormone because it's anti-fungal.

Keep in bright but indirect light. Cuttings need more water than established plants, and leaf cuttings need more water than stem cuttings because they have less support. If they're wrinkly it means they need water. Slowly water less after roots form. The less you water your succulents, the stronger they will be against drought! If they grow with a stretched-out look, gradually give it more sun.
In the end, just feel out whatever works for you.
Anyways, here's a picture of my mehendi from Teil's wedding: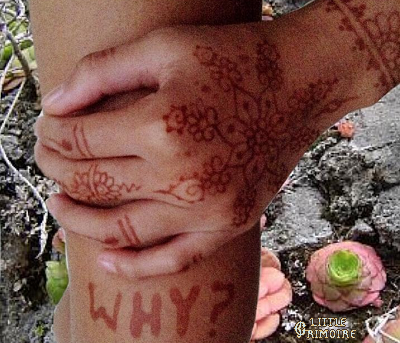 (Background image from here.)
---